2014 Infiniti QX60
Inspired Performance is, and will always be, the driving force behind every Infiniti, and the QX60 is no exception. Whether engaging the power of the V6 or Infinitiís Intelligent All-Wheel Drive system, the QX60's refined driving characteristics are meticulously crafted to achieve maximum output while enhancing your feel for the road. Behind the seductive curves of the QX60 lives Infinitiís signature sense of exhilaration. Acceleration swell is Infiniti's vision of power, dedicated to delivering a shape and feel beyond raw numbers. By tuning Infiniti engines to unleash torque that climbs over a broader rev range, the force you feel seems to increase the faster you go, building like the swell of a rising wave. The emotional energy surges in tandem, creating a limitless rush rather than a momentary thrill.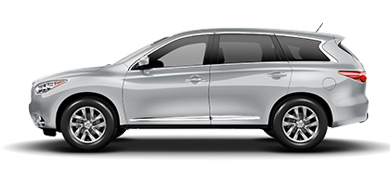 2014 Infiniti QX60
QX60 3.5
From:
$41,550
265-hp 3.5-liter V6 engine
Leather-appointed seating
Infiniti Drive Mode Selector
Infiniti Intelligent Key
USB connection port
RearView Monitor
Bluetooth® Hands-free Phone System
Multi-functional second-row seat with easy third-row entry/exit even with a child seat installed
Continuously variable transmission (CVT) with manual shift mode
Tri-Zone Automatic Temperature Control System Moonroof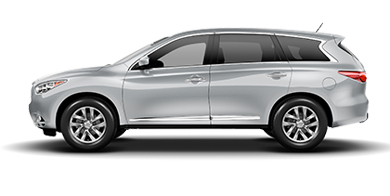 2014 Infiniti QX60
QX60 3.5 AWD
From:
$42,950
Includes all QX60 3.5 features, plus Infiniti Intelligent All-Wheel Drive
INFINITI QX60 - INTERIOR

Luxurious Craftsmanship -- Inner Beauty: The dynamic lines of the Kasane Washi trim flow smoothly into the organic shapes of the dash. Optional Maple accents offer a sophisticated and warm look. Gauges and knobs glow with the striking hue of violet. Spacious, yet with the intimacy of a cockpit. It is design crafted with a singular goal: to create a personal connection with the driver.

Fuki-Urushi
The beauty of the center console maple interior trim draws inspiration from Fuki-Urushi, the timeless Japanese craft of patiently applying layers of lacquer across wood grain, preserving the natural tone with masterful brushstrokes.

Matchless Materials
Infiniti is committed to crafting the perfect balance of texture and tension. Frequently contacted areas are clad in uniquely crafted leather designed to be sumptuous and rewarding to your every touch.

Welcoming Cockpit
Controls and instrumentation are positioned for instinctive reach and use. Each component is crafted for recognition by shape and feel, ensuring that the driver connects with the QX60 intuitively, by touch alone.


INFINITI QX60 - PERFORMANCE

Continuously Variable Transmission
Seamless Shifting
An Infiniti first, the QX60 reshapes the delivery of power with a Continuously Variable Transmission. With a near infinite number of continuously varying gear ratios, CVT simultaneously adjusts the delivery of torque from the engine and the transfer of that torque to the wheels. The result - stepless shifting of gears and exceptionally smooth driving.

Intelligent All-Wheel Drive (AWD)
Exceptional Adaptability
The QX60's Intelligent All-Wheel Drive (AWD) empowers you with confidence by intuitively adjusting handling and power delivery in adverse weather conditions. By constantly monitoring wheelspin, throttle position and vehicle speed, the system automatically diverts up to 50% of the available power to the rear wheels, enhancing traction and control when conditions are less than optimal. When all-wheel drive is not needed, 100% of the power is channeled to the front wheels.


INFINITI QX60 - SAFETY AND SECURITY

Safety Shield
All Things Considered
The Infiniti Safety Shield concept is our comprehensive approach to safety. The QX60 offers layered technologies to help provide safety and convenience by monitoring conditions, helping you avoid a collision, and helping protect you and your passengers when one occurs.

Backup Collision Intervention -- The Bigger Picture
The world's first Backup Collision Intervention (BCI) system is another significant evolution of driving confidence. When in reverse, BCI helps detect crossing vehicles and objects behind the vehicle and alerts the driver with visual and audible alerts. If necessary, BCI goes further by automatically engaging the brakes to help avoid a collision.

Blind Spot Intervention
Safety Beyond What You See
Another world's first technology from Infiniti, the Blind Spot Intervention system helps alert you to vehicles in the blind spot area when driving, then actively assists you back toward the center of your travel lane if you begin to move over.

Lane Departure Prevention
Confidence in Motion
Lane Departure Prevention (LDP) helps keep your vehicle from unintentionally drifting from your lane. It utilizes a camera to monitor the distance between the vehicle and lane markings. If the vehicle drifts unintentionally towards the lane markers, the system first sounds an audible warning, then lightly applies selected brakes to help you ease your vehicle back into its lane.

Intelligent Brake Assist
Anticipate the Road Ahead
Intelligent Brake Assist (IBA) system with Forward Collision Warning (FCW) uses radar from the Intelligent Cruise Control system to continuously monitor and analyze closing speeds to a vehicle or a stationary obstacle ahead. FCW can sense an imminent collision and will provide a two-stage warning to the driver as the vehicle moves towards impact. If the driver does not respond adequately to both consecutive warnings and a collision can no longer be avoided, IBA will automatically engage the brakes to help reduce the speed of a collision.


INFINITI QX60 - VERSATILITY

Luxuriously Adaptable
Versatility in its most ingenious form. The spacious interior of the QX60 adjusts to your needs with unrivaled adaptability. With abundant legroom for all passengers and a unique 2nd-row sliding and tilting seat to provide access to the 3rd-row ó even when a child seat is installed ó the innovative QX60 provides versatility precisely tailored to the needs of every guest. Accommodation is never compromised.